Children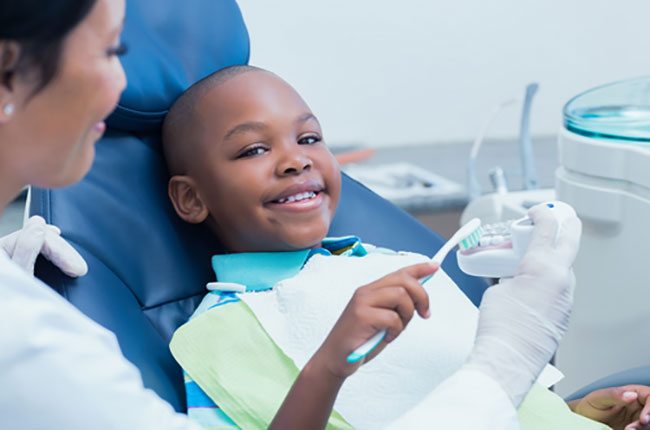 Dr. Matthew L. Bridges at Chisholm Trail Smile Center in Duncan, OK provides treatments in children's preventative dentistry to help kids maintain healthy teeth and gums. 
Children's Preventative Dentistry
Proper dental care begins at an early age. At Chisholm Trail Smile Center in Duncan, OK, Dr. Matthew L. Bridges provides treatments in children's preventative dentistry to detect early signs of problems and fight cavities. Our family-friendly practice has been serving our community for decades, and we take pride in providing the utmost dental care for patients of all ages.
The Importance of Early Dental Care
The American Dental Association recommends taking your child to the dentist when their very first tooth erupts, or by their first birthday. Many people subscribe to the myth that baby teeth are not that important. However, primary teeth serve many purposes. Not only do they help foster normal chewing function, they also assist your child in developing appropriate speech patterns. Healthy teeth are vital to proper nutrition, and they also "hold space" for permanent teeth in the future.
Children undergo significant development before their teenage years. If there are problematic issues, it is important to identify them at an early age. Early diagnosis allows us to address conditions in a more predictable and less invasive manner. If left untreated, issues can worsen over time, resulting in the need for more extensive procedures.
Treatments in Children's Preventative Dentistry
There are a number of simple treatments that can make a big difference to your child's oral health. Here are just a few of the preventative procedures we offer at Chisholm Trail Smile Center:
Routine Examinations: Bridges will assess your child's teeth, gums, and surrounding structures to ensure proper development and detect any early signs of cavities.
Regular Cleanings: Routine teeth cleanings help keep plaque and bacteria at bay, encouraging healthy teeth and gums. They are also an excellent way to instill good hygiene habits at an early age.
Fluoride Treatments: To prevent cavities and strengthen tooth enamel, fluoride treatments can be given at routine appointments.
Cavity Detection: When identified early, cavities can be treated fairly easily. Cavity detection is part of a routine oral examination.
Dental Sealants: To help prevent the development of cavities, dental sealants can be placed on back teeth to protect the chewing surfaces from bacteria.
Orthodontic Spacers: If your child loses a tooth prematurely, a space maintainer may be necessary. These simple appliances prevent shifting and "hold space" for your child's permanent teeth.
Orthodontic Assessments: If it is determined that your child may need orthodontic treatment, Dr. Bridges will refer you to an orthodontist for a full assessment. During every routine examination, we will diagnose any necessary orthodontic needs.
Dental Hygiene Tips for You and Your Child
Teaching your child the importance of oral hygiene now can result in a lifetime of proper care. Here are a few suggestions for instilling proper habits for a healthy smile:
Oral Hygiene Techniques: Our team can help your child develop healthy brushing and flossing habits. We will determine the best methods and tools for your child's specific situation.
Proper Nutrition: A well-balanced diet is vital to good oral health. Reducing sugary and acidic foods will help maintain natural enamel and keep your child's smile looking healthy.
Stick to a Cleaning Schedule: Most children need cleanings approximately every six months. Patients who are at a high risk of cavities may need more frequent cleanings. Dr. Bridges will help you determine a schedule that is right for your child.
Schedule a Consultation with Us Today
Early preventative dental care is important for your child's oral health. To learn more about children's preventative dentistry, or to schedule an appointment, call us at (580) 255-4880 or contact us online.