Your Duncan Dentist's Office!
At Chisholm Trail Smile Center, Dr. Bridges and his team prioritize the individual patient. We are committed to providing modern dental service with a small-town feel, and treat each patient like family. Learn more about our practice and why you should visit us for all of your dental needs!
Learn More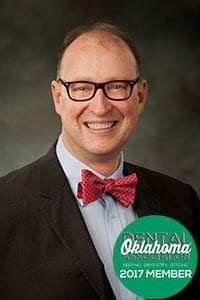 Headed by Dr. Bridges, our team of dental hygienists and staff greet each patient with a smile. Dr. Bridges himself is a highly experienced and passionate dentist. He formerly worked as a software programmer, but after participating in a charity run by the American Dental Association (ADA), he couldn't help but pivot to a career in dentistry.
Dr. Bridges recently finished up the Dawson Academy's Continuum, and has been designated as a Qualified Dentist by the American Academy of Dental Sleep Medicine. His passion for his profession is infectious, and has an impact on colleagues and patients alike.
Read More
Comfortable Dentistry by Skilled Professionals
Nervous about seeing the dentist? Dental anxiety is a common affliction, but avoiding the dentist is a sure way to encourage dental problems and disease, which will just cause more anxiety down the line. With Dr. Bridges and his skilled team, there's no need to worry. His history of working with anxious patients means you can relax knowing you're in good hands.
We first opened our doors at Chisholm Trail Smile Center in 1976 and have been in operation for over 40 years, meaning we are fully integrated into the community we serve. We have even provided dental care for several generations of Duncan, OK families.
Because of our experience serving the community, we know how important it is to put our patients' health above all else. We focus on first addressing issues with health and function in the mouth and jaw, before embarking on any cosmetic alterations. Above all, we work with you to help you achieve your smile goals.
Experts in Complex Dentistry
Are you looking for a provider to treat your issues in complex dentistry? Although complex dentistry is a broad category, our Duncan, OK dental office is prepared to treat any issues you may be having. We help guide patients through a variety treatments, including:
Full mouth reconstruction
TMD treatment
Sleep medicine/airway issues
Implant-supported dentures
Cosmetic dentistry
Dr. Bridges and his team specialize in these areas, so you can be sure you're receiving the best care possible. In addition, Dr. Bridges' credentials in sleep medicine and partnership with a local sleep specialist mean he is poised to provide top-notch care for sleep disorder and airway issues.
A Committed Practice for the Whole Family
For people of all ages, Chisholm Trail Smile Center is your dental hub. Whether you need to visit for a biannual checkup, are considering restorative surgery, or want to have a toothache checked out, Dr. Bridges is at your service.
At our Duncan, OK dental office, you'll feel right at home. Contact us online today or call us at (580) 255-4880 to schedule an appointment. Take the first step on the journey to a better smile with Chisholm Trail Smile Center!