Welcome
At Chisholm Trail Smile Center, our team is devoted to maximizing the health, function, and aesthetics of your smile. Conveniently located on West Elk Avenue across from the Duncan Regional Hospital, our practice has been providing advanced modern dentistry with a small-town feel for over four decades.
With an extraordinary knack for treating patients with dental fear and anxiety, Dr. Bridges has forged a positive reputation with numerous people in our community. It is his mission to create a comfortable, friendly environment. Dr. Bridges wants his patients to know that going to the dentist does not have to be a stressful experience.
Few dental professionals have emerged with such dedication and passion as Dr. Bridges. Formerly a software designer, he decided to pursue a career in dentistry after volunteering at Give Kids a Smile Day, a nationwide charity founded by the American Dental Association.
Dr. Bridges finds personal satisfaction in what he does. He spends time with each patient to understand their personal needs and goals. Embracing a philosophy of compassion, he treats each person like he would treat a member of his own family.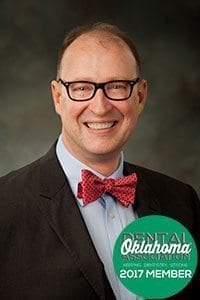 We understand that choosing a dentist is not always an easy task. You want someone who is knowledgeable and compassionate, who can truly understand your concerns. Utilizing the latest techniques and innovations, Dr. Matthew L. Bridges and his team provide comprehensive dental care to patients of all ages. For generations, families have entrusted us as their oral healthcare provider. We sincerely hope you will find your dental home at Chisholm Trail Smile Center
Preventative Dentistry
Question: How did cowboys prevent cavities while they were out on the range?
Answer: They carried tooth powder in their saddle bags!
Treatments in preventative dentistry can keep cavities at bay and promote healthy teeth and gums. At Chisholm Trail Smile Center, we provide routine cleanings and examinations. We also offer fluoride treatments, dental sealants, and provide regular oral cancer screenings. Our team will demonstrate proper hygiene techniques and help determine what methods are right for you. Because each patient is unique, your at-home regimen will be personalized for your needs to keep your smile looking great.
When it comes to oral health, early detection is key. If left untreated, dental problems can evolve into bigger overall issues, such as heart disease and stroke. We can help keep you healthy and maintain your bright, beautiful smile.
Restorative Dentistry
Question: What item was considered a thoughtful old-fashioned wedding gift?
Answer: Dentures! In order to save the newly wedded couple future dental expenses, friends and family members paid for them to have all of their teeth removed and a new set of dentures crafted.
Whether you need a single filling or a full set of dentures, our treatments in restorative dentistry can return normal function to your smile. If your teeth do not fit together properly, or if they are compromised by decay, your oral and overall health can suffer. We offer a number of restorative procedures to improve your quality of life and help you smile again.
Contact Our Practice
Dental health is a significant contributing factor to your overall well-being. To find out more about how we can help you, call Chisholm Trail Smile Center at (580) 255-4880 or contact us online.