About CTSC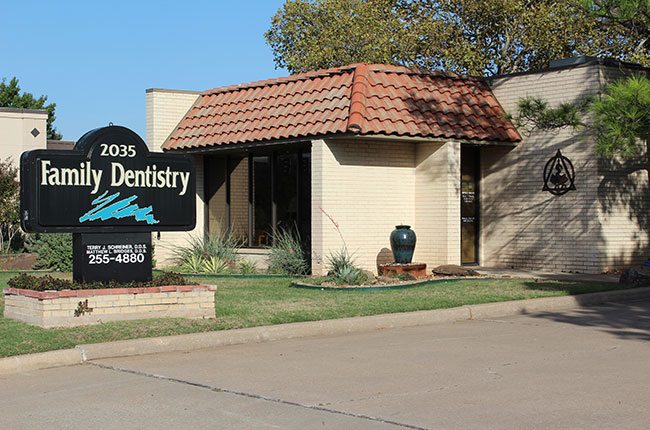 Learn about Chisholm Trail Smile Center in Duncan, OK, the practice of Dr. Matthew L. Bridges, who provides treatments in restorative, cosmetic, and children's dentistry. 
Learn More About Our Practice
Dr. Matthew L. Bridges and the team at Chisholm Trail Smile Center are committed to providing exceptional dental care to the Duncan, OK community and surrounding areas. From preventative care to cosmetic dentistry to custom restorations, we strive to deliver the highest quality comprehensive care for your entire family. We understand choosing a dental home can be an overwhelming task. Let us show you that going to the dentist can be a pleasant experience.
One of the Oldest Practices in Duncan, OK
In 1976, Dr. Terry J. Schreiner began practicing dentistry with his brother, providing our community with quality dental care for over four decades. In 2017, Dr. Bridges joined our team and now carries on the legacy of our practice.
Located on West Elk Avenue, our historical building is located across from the Duncan Regional Hospital. Over the decades, we have fostered long-lasting relationships with numerous people in our town. We have been treating many families for several generations. We enjoy getting to know our patients as individuals, and we appreciate the many benefits of practicing dentistry in a small town.
A Family-Friendly Dental Practice
We treat patients of all ages at Chisholm Trail Smile Center. From children to the young at heart, we have the resources necessary to provide personalized care. Our treatments in children's dentistry help prevent cavities and instill proper oral hygiene at an early age. We also offer cosmetic and restorative procedures and periodontal cleanings. Whether you are looking to restore your function or simply brighten your smile, we can help you achieve your goals.
Digital Technology
At Chisholm Trail Smile Center, our x-rays are completely digital. Patient safety is first and foremost. Our modern radiograph unit emits 90 percent less radiation than conventional x-ray systems. Digital technology allows Dr. Bridges to manipulate the images for a more accurate diagnosis.
We also use a DEXIS® intraoral camera in our practice. This helps our team better visualize areas inside the oral cavity.
Our Philosophy and Commitment to You
We want to help our patients improve and maintain maximum oral health, function, and aesthetics. Your teeth, gums, jaw joints, and surrounding structures all work together in harmony for optimal oral health. We believe health should be addressed before aesthetics for long-term success. With healthy teeth and gums, you can explore cosmetic treatments to enhance your appearance and give you the smile you desire.