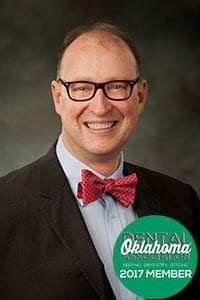 Dr. Matthew L. Bridges
Dr. Matthew L. Bridges provides the highest quality dental care in a comfortable, relaxing environment. With a heart for people who are anxious or fearful of going to the dentist, he gets to know each patient as an individual, and cultivates a relationship of trust and compassion. Dr. Bridges believes going to the dentist does not have to be a stressful or frightening experience.
Staying up to date with the latest methods and technologies, Dr. Bridges attends a number of continuing education courses including topics on airway, treatment of TMD, Functional Occlusion, and Predictable Esthetics. In fact, he recently completed the Dawson Academy continuum, a curriculum designed to blend practical technique with practice philosophy. As part of his dedication to continued learning in the field of disorders like sleep apnea, Dr. Bridges has been designated as a Qualified Dentist by the American Academy of Sleep Medicine (AASM).
Listening closely to the needs and concerns of our patients, he treats each person like a member of his own family. Dr. Bridges believes community education is a crucial aspect of successful dentistry. He spends a significant amount of time discussing diagnosis with each patient to provide a clear understanding of treatment.
Before attending dental school, Dr. Bridges obtained his undergraduate degree at the University of Arizona and worked in software development. After volunteering at Give Kids a Smile Day, his passion for dentistry was born, and he made the decision to change his career path. He received his Doctorate of Dental Surgery at the University of Oklahoma, and upon graduation, joined Dr. Schreiner at our practice. Dr. Bridges continues his work with charity organizations, and volunteers with the American Dental Association Foundation and the Oklahoma Mission of Mercy.
Dr. Bridges was a recipient of the Pierre Fauchard Academy Junior Scholarship, and also served as the Speaker of the House of Delegates for the American Student Dental Association. He served as President of the Southwest Dental Society for 2018-2021 and is currently the Trustee of the Southwest component of the Oklahoma Dental Association. Dr. Bridges was nominated for fellowship in the American College of Dentists in 2021.
American Dental Association
Academy of General Dentistry
Oklahoma Dental Association
Southwest Dental Society
Stephens County Dental Society
American College of Dentists
American Academy of Dental Sleep Medicine
American Academy of Facial Esthetics
National Association of Parliamentarians
Dawson Academy Alumni Association
When he is not performing dentistry, he enjoys spending time with his wife, Melody, and their children, Nathanael, Millie, Ruby, and Susie. He and his family attend Immanuel Baptist Church in Duncan. In his spare time, Dr. Bridges pursues hobbies such as board games, model rocketry, home-improvement projects, software development and fishing.